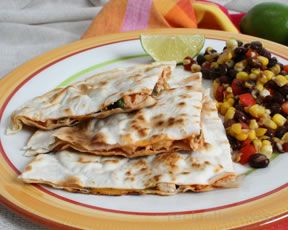 Directions
Combine all of the bean and corn salad ingredients together in a bowl and set aside while preparing quesadillas (may be done 1 to 2 hours prior to serving, if refrigerated).
Combine cooked, cubed chicken with bottled salsa, shredded greens, and cheese.
Divide chicken mixture evenly on 4 flour tortillas and cover with 4 remaining tortillas.
Coat large skillet with non-stick vegetable spray. Cook each quesadilla over medium heat, one at a time, for approximately 4 minutes on each side.
Remove quesadillas and cut each into 4 pieces.
Serve with bean and corn salad and bottled salsa.
Prep Time: 10 minutes
Cook Time: 10 minutes
Container: large, heavy skillet
Servings: 4


Ingredients
-
Bean and Corn Salad:
-
1 cup fresh corn kernels (approximately 2 large ears)
-
1 sweet, red bell pepper, seeded and diced
-
1 large, ripe tomato, seeded and chopped
-
3 tablespoons fresh cilantro (or to taste)
-
1 1/2 tablespoons balsamic vinegar (or to taste)
-
1/2 teaspoon kosher salt (or to taste)
-
15 ounces black beans, drained
-
Quesadillas:
-
2 cups chicken, cooked and cubed
-
1 cup fresh romaine or fresh spinach, shredded
-
3/4 cup bottled salsa
-
8 flour tortillas, 8
-
1/2 cup to 3/4 cup reduced fat cheddar cheese, shredded
-
1 fresh lime, quartered as garnish for salad mixture