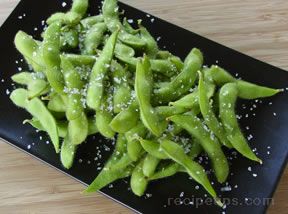 Directions
Bring a large pot of water to a boil. Add edamame and continue boiling until beans are crisp-tender, about 10 minutes. To prevent overcooking, start checking for doneness approximately 7 minutes after cooking. (To check, remove one carefully, dip in cold water to cool, and taste.)
When done, run cold water over, or put in ice water, to stop cooking. Drain well; pat excess moisture off, and sprinkle with salt to taste. (Start with 1/2 teaspoon.)
To eat, hold pod by stem end, and slide the individual beans out with your teeth. Discard pod.
Prep Time: 5 minutes
Cook Time: 10 minutes
Servings: 8
Serving Size: cup


Ingredients
-
1 pound fresh edamame, in the pod
-
salt, preferably kosher or sea salt