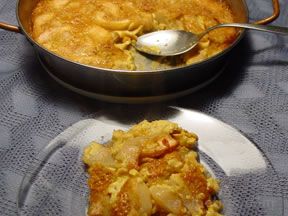 Directions
Preheat oven to 350°F. Put butter into baking dish and put it in the oven briefly, to melt butter.
Peel and core and slice pears. Put into baking dish with melted butter.
Beat eggs until foamy. Add sugar and beat for several minutes, until mixure thickens. Add flour and beat in well. Add milk, vanilla and salt. Mix in.
Pour batter over pears and bake until a knife inserted in the center comes out clean, 35 to 45 minutes. Serve warm or at room temperature.
TIP: to reduce work time a bit, put all batter ingredients in a blender or food processor and pulse until well blended.
Prep Time: 15 minutes
Cook Time: 45 minutes
Container: 9 inch baking dish
Servings: 4
Serving Size: 1 cup


Ingredients
-
1 tablespoon butter
-
4 pears (use more if small)
-
1/2 cup brown sugar
-
2 eggs
-
2 tablespoons flour
-
1 cup milk
-
1 teaspoon vanilla extract
-
1/8 teaspoon salt