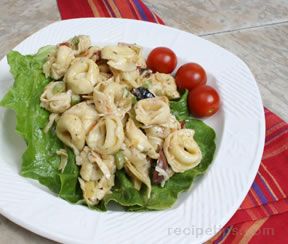 Directions
Cook and drain tortellini according to package instructions. Allow it to cool.
Combine tortellini, celery, artichoke hearts, onion, sun-dried tomatoes, olives, and cheese in a large bowl.
In a separate small bowl, whisk together dressing ingredients and pour over salad.
Cover and chill a minimum of 3 hours. Best if chilled overnight.
Prep Time: 20 minutes
Cook Time: 10 minutes
Container: large bowl
Servings: 8


Ingredients
-
SALAD:
-
24 ounces cheese tortellini
-
2 cups celery, chopped
-
14 ounces artichoke hearts
-
3/4 cup green onion
-
1/2 cup sun-dried tomatoes in oil
-
1/2 cup kalamata olives, halved
-
1/2 cup freshly grated Parmesan cheese
-
DRESSING:
-
1/2 cup mayonnaise
-
1/2 cup olive oil
-
1/4 cup red wine vinegar or champagne vinegar
-
1 1/2 teaspoons Dijon mustard
-
1 teaspoon sugar
-
1/2 teaspoon salt
-
1/2 teaspoon freshly ground black pepper
-
1/4 teaspoon oregano, ground
-
1/4 teaspoon dried thyme leaves
-
1/4 teaspoon dried basil or 1 teaspoon minced fresh basil
-
1 clove garlic, minced or finely chopped