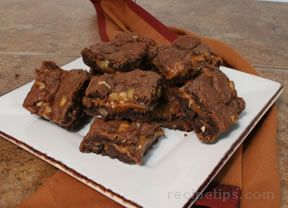 Directions
Preheat oven to 350 degrees F. Grease a 9" x 13" pan.
Melt caramels and 1/3 cup of evaporated milk over low heat in a heavy sauce pan. Set aside.
In a large bowl, combine cake mix, 1/3 cup evaporated milk, melted butter, and nuts. Stir by hand until just combined. Press half of the dough mixture on the bottom of the prepared baking dish.
Bake for 6 minutes at 350 degrees F. Remove from the oven and immediately sprinkle chocolate chips over baked crust.
Pour the melted caramel mixture over the top of the chocolate chips.
Crumble the remaining dough evenly over the top of caramel.
Bake for an additional 18 minutes.
Cool completely and refrigerate the bars before cutting into squares.
Prep Time: 45 minutes
Cook Time: 25 minutes
Container: 9
Servings: 24


Ingredients
-
14-ounce bag of caramels
-
1/3 cup evaporated milk (do not use sweetened condensed)
-
1 cup chopped nuts (walnuts or pecans)
-
18 1/4 ounce box of German chocolate cake mix
-
1/3 cup evaporated milk (do not use sweetened condensed milk)
-
3/4 cup butter, melted
-
1 cup chocolate chips