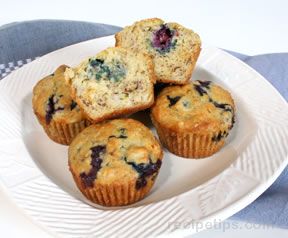 Directions
Preheat oven to 375º F.
In a bowl, cream together sugar and butter/margarine. Add eggs, milk, vanilla and bananas. Stir until combined. Add 1¾ cup flour (reserve 1/4 cup), baking soda, baking powder and salt. Mix until combined.
Fill a small bowl with blueberries (if you are using frozen blueberries, do not thaw them) and coat thoroughly with remaining 1/4 cup of flour. Fold into batter.
Put muffin liners into tins and spoon the batter into muffin liners, filling approximately 2/3 full. Bake 20-25 minutes.
Container: mixing bowl, muffin tin and foil liners
Servings: 15


Ingredients
-
1/2 cup granulated sugar
-
1/2 cup butter or margarine
-
2 eggs, slightly beaten
-
1/2 cup buttermilk (or sour milk)
-
1 teaspoon baking soda
-
1 teaspoon baking powder
-
1/2 teaspoon salt (optional)
-
2 cups all purpose flour, divided
-
1 teaspoon vanilla
-
3 bananas, mashed
-
1 cup blueberries