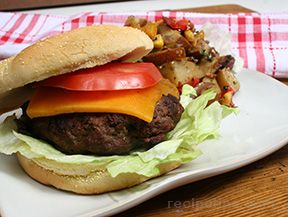 Directions
Preheat grill.
In a medium bowl, combine ground beef, onion, Worcestershire sauce, salt and pepper. Form into 4 patties.
Spray the burgers with cooking spray to prevent them from sticking to the grill grate while grilling, or brush cooking oil directly on the grill grate. Grill burgers approximately 4 to 5 minutes per side.
Add sliced cheese during the last minute of grilling, allowing the cheese to melt slightly before serving.
Serve each burger patty on a bun and garnish as desired.
Prep Time: 15 minutes
Cook Time: 15 minutes
Servings: 4


Ingredients
-
1 pound ground beef
-
1/4 cup onion, minced
-
2 teaspoons Worcestershire sauce
-
1 teaspoon salt
-
1/2 teaspoon black ground pepper
-
4 slices American cheese
-
4 hamburger buns
-
OPTIONAL GARNISHES:
-
red onion, thinly sliced rings
-
tomatoes, thinly sliced
-
lettuce leaves
-
mustard
-
ketchup
-
cooking spray