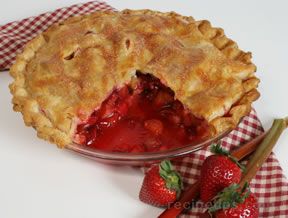 Directions
Preheat oven to 400ºF.
Clean and cut rhubarb and strawberries. Place prepared fruit and lemon juice in a large bowl. Add sugar, corn starch, salt and cinnamon. Stir until fruit is lightly coated.
Cover bottom of pie plate with 1 pastry crust, leaving an overhang of approximately 1/2 inch. Pour fruit mixture into bottom of unbaked crust, dot with butter and sprinkle with freshly ground nutmeg, if desired.
Place remaining crust over fruit filled crust. Seal and flute the edges. Cut 6 slashes on the top of crust to release steam while baking.
Beat egg white until frothy and spread over top crust. Sprinkle lightly with sugar if desired.
Bake at 400ºF for 10 minutes. Reduce heat and cover edges to prevent over-browning. Continue baking at 375ºF for 50 to 55 minutes.
Remove and cool on rack before serving.
Garnish with ice cream or whipped topping, if desired.
Prep Time: 30 minutes
Cook Time: 1 hour
Container: 9-inch pie plate
Servings: 6


Ingredients
-
Pastry for double crust 9-inch pie
-
4 cups fresh rhubarb, chopped
-
3 cups fresh strawberries, sliced into thirds
-
1 3/4 cups granulated sugar
-
1/3 cup cornstarch
-
1 pinch salt
-
1 teaspoon fresh lemon juice
-
1/2 teaspoon cinnamon
-
1 teaspoon to 2 teaspoons unsalted butter
-
freshly ground nutmeg
-
1 egg white
-
Optional Garnish: ice cream or whipped topping