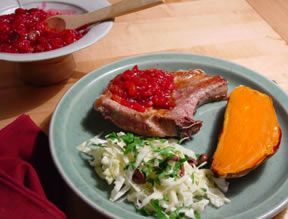 Directions
The salsa can be made ahead and refrigerated, if you wish. Or prepare it while the chops cook.
Sort through cranberries; discard any spoiled ones. Finely chop onion and garlic, or, for a quicker version, put all salsa ingredients into a food processor and pulse a few times until onion and garlic are in very small bits.
Mix all ingredients (except the chops) together in saucepan and simmer, stirring occasionally, until thickened, about 10 - 15 minutes. Taste for seasoning; add more sugar if desired.
Grill, broil or pan-broil chops to desired doneness. Pass salsa with chops.
Prep Time: 10 minutes
Cook Time: 15 minutes
Container: small, non-reactive saucepan
Servings: 4


Ingredients
-
4 pork chops
-
1 cup cranberries, fresh or frozen
-
1 small onion, finely chopped
-
2 cloves garlic, minced or pressed
-
1/2 cup wine
-
2 tablespoons sugar
-
1/4 cup raisins, preferably golden
-
1/2 teaspoon salt