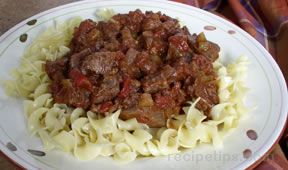 Directions
In a large heavy skillet, brown onions, celery and steak pieces.
Place in dutch oven (or crock pot). Add tomato sauce, diced tomatoes, red wine and Kitchen Bouquet. Cook over medium heat for 3 hours - covered.
Thicken, if desired, at the end with 2 tablespoons flour blended with 2 tablespoons water; season with salt and pepper.
Serve over cooked noodles or rice.
Prep Time: 30 minutes
Cook Time: 3 hours
Servings: 4


Ingredients
-
1/2 pound round steak (rop round) cut into serving size pieces
-
8 ounces can tomato sauce
-
10 ounces seasoned diced tomatoes, drained
-
1/2 cup sweet onion, chopped
-
1/4 cup chopped celery
-
1/4 cup red wine
-
1 teaspoon kitchen bouquet
-
salt to taste
-
black pepper to taste
-
2 tablespoons all-purpose flour
-
2 tablespoons water