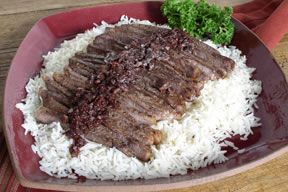 Directions
In a large heavy skillet place steak, seasoned with salt and pepper on both sides, over medium high heat. Brown each side approximately 2 minutes per side. Lower heat, add 2 tablespoons margarine and cook 4 minutes on both sides. Remove meat and keep warm.
Add onions and wine, bringing to a boil, and add diced garlic. Cook until liquid is reduced to approximately half.
Reduce heat to a simmer and blend in the remaining 2 tablesppons of margarine. Remove from heat.
Slice meat into thin strips and place on serving plate; pour wine sauce over meat. Can be served over cooked rice, if desired.
Prep Time: 15 minutes
Cook Time: 15 minutes
Servings: 4


Ingredients
-
1 1/2 pounds round steak. 1
-
1 teaspoon salt
-
1/2 teaspoon black pepper, freshly ground
-
4 tablespoons margarine or butter
-
2 tablespoons sweet onion, chopped
-
1 cup red wine, dry
-
6 cloves garlic, diced fine