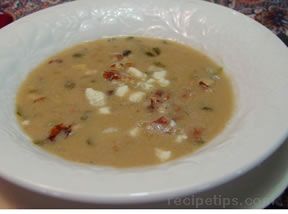 Directions
Finely dice the onion and potato. Thinly slice the celery and mince the garlic.
Over medium heat, melt the butter in a 2 or 3 quart saucepan. Without browning, cook the onion, garlic, celery and potato until the onion is soft, 5 - 10 minutes.
Stir in broth and milk. Add crumbled blue cheese, reserving 1 tablespoon for garnish, and walnuts. Simmer until all vegetables are tender, about 10 minutes. Stir in the yogurt and continue cooking for 2 or 3 minutes, but do not boil.
Sprinkle on reserved cheese, taste for seasoning, add salt and pepper to taste. Serve hot.
Prep Time: 15 minutes
Cook Time: 30 minutes
Servings: 4


Ingredients
-
2 tablespoons butter
-
1 onion
-
2 stalks celery
-
2 cloves garlic
-
1 medium potato
-
3 cups chicken or vegetable broth
-
1 cup milk
-
2 ounces blue cheese
-
1/4 cup walnut pieces
-
1/2 cup plain yogurt
-
salt and pepper