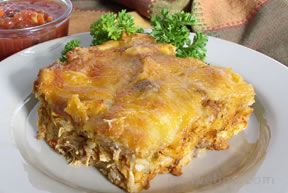 Directions
Preheat oven 350#176;F. Cut cooked chicken into small bite sized pieces and cut tortillas into 1" squares (Be sure to use corn tortillas).
In a medium sauce pan, add cream soups, broth, green chilies, onion, canned chili and salsa. Heat thoroughly 2-3 minutes.
Mix with chicken and tortillas. Pour into prepared pan and sprinkle with cheeses.
Bake covered for 25 minutes; then uncover and bake 45 minutes longer. Cut and serve hot.
Garnish with any or all of the following ingredients: salsa, shredded lettuce, diced tomatoes, diced yellow and green peppers and shredded cheeses.
Prep Time: 20 minutes
Cook Time: 1.5 hours
Container: 9
Servings: 8


Ingredients
-
7 chicken breast, cooked, cooled and cut into 1
-
12 corn tortillas
-
8 ounces Monterey Jack cheese (shredded)
-
8 ounces Cheddar cheese (shredded)
-
10 1/2 ounces cream of mushroom soup
-
10 1/2 ounces cream of chicken soup
-
3/4 cup chicken broth
-
4 ounces can diced green chilies (small can)
-
15 ounces can chili with no beans
-
1/2 cup onion, diced
-
3/4 cup salsa
-
shredded lettuce
-
diced tomatoes
-
shredded cheese of your choice
-
diced green and yellow peppers