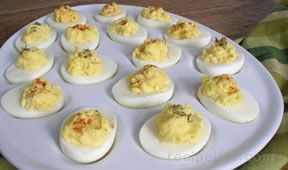 Directions
Place eggs in a medium sauce pan. Add enough water to cover eggs. Add 1 teaspoon of salt.
Bring to a boil, reduce heat to medium and cook for 10 minutes covered.
Remove from heat. Drain. Run cold water over eggs until cooled. Peel.
Cut peeled eggs in half lengthwise and scoop out yolks into a small bowl. Mash yolks with a fork and add mayonnaise, mustard and paprika. Stir to combine. Salt and pepper to taste.
Fill empty egg white halves with egg mixture and garnish as desired. Keep in refrigerator until ready to serve.
Prep Time: 15 minutes
Cook Time: 15 minutes
Servings: 6


Ingredients
-
6 eggs
-
1 teaspoon salt
-
2 tablespoons mayonnaise
-
1 teaspoon prepared mustard
-
1/2 teaspoon paprika
-
salt and pepper to taste