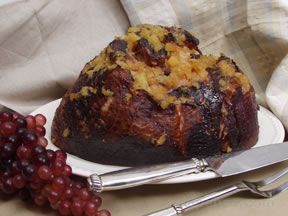 Directions
Preheat oven to 325 degrees F. Trim the skin and some of the fat from the ham, leaving some fat to provide moisture to the ham while cooking.
Place the ham cut side down on a roasting rack in a roasting pan. Add the water to the roasting pan and cover tightly with foil. Place in a preheated oven and roast for 18 to 24 minutes per pound. During the last 30 minutes of cooking time the glaze should be applied.
GLAZE: Raise the oven temperature to 375 degrees F. Score the fat by making diagonal cuts in one direction approximately 3/4 inch apart. Then make diagonal cuts in the opposite direction to form a diamond pattern. Make the glaze by adding brown sugar and pineapple (slightly drained) together and stir until well mixed. Spoon or brush glaze over the ham.
Return the ham to the oven and bake for an additional 30 minutes. Watch carefully because the glaze can burn easily. Ham is done when the glaze has caramelized and turned golden brown. Remove from the oven and carve.
Prep Time: 45 minutes
Cook Time: 3 hours
Container: roasting pan and rack


Ingredients
-
1 half ham - fully cooked (8 to 10 lbs.)
-
1 cup water
-
1 cup brown sugar
-
3/4 cup crushed pineapple, slightly drained