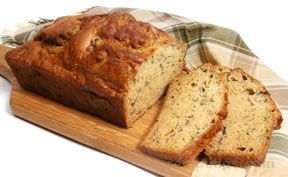 Directions
Preheat oven to 350 degrees F. Grease a 9"x5" loaf pan.
In a large bowl combine sugar, shortening (or oil), and eggs. Beat in bananas. Add remaining dry ingredients and combine. Fold in nuts. Batter will be thick.
Pour into prepared pan and bake for 60 minutes or until done. Insert a toothpick in center to check for doneness. If toothpick is clean when removed, the bread is done.
Remove from pan and cool.
Prep Time: 15 minutes
Cook Time: 1 hour


Ingredients
-
3 bananas, ripe, mashed
-
1 cup sugar
-
2 eggs, large
-
1/2 cup shortening or vegetable oil
-
2 cups all purpose flour
-
1/2 teaspoon baking powder
-
1 teaspoon baking soda
-
1/2 teaspoon salt
-
1 teaspoon vanilla
-
1/2 cup nuts (optional)