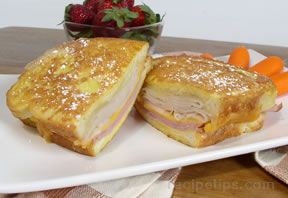 Directions
Spread Dijon mustard lightly over one side of a slice of bread. Place one or two slices each of Swiss cheese, American cheese, ham, and turkey on top of the mustard. Spread mustard lightly on the remaining slice of bread and place this slice on top.
Cut the whole sandwich into two halves.
Repeat for second Monte Cristo sandwich.
Beat egg, milk and salt. Melt butter in a skillet over medium high heat. Dip the sandwich halves into the egg mixture, covering both sides.
Place in a skillet with melted butter and brown all sides, adding more butter as needed.
As a garnish, sprinkle a small amount of powdered sugar over the top of the sandwich.
Prep Time: 10 minutes
Cook Time: 10 minutes
Servings: 2


Ingredients
-
2 tablespoons Dijon mustard (more as desired)
-
4 slices Vienna or lite bread
-
2 slices Swiss cheese
-
2 slices American cheese
-
4 slices ham
-
4 slices turkey
-
2 eggs, large
-
2 tablespoons milk
-
1 pinch salt (optional)
-
Butter or cooking spray (as needed)
-
Powdered sugar (as needed)