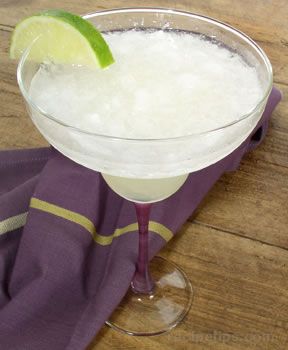 Directions
Pour tequila, triple sec and frozen limeade into blender. Combine.
Add crushed ice to mix and blend until it becomes slushly in texture.
Freeze in container until ready to serve. Garnish with lime.
Serving Suggestion: Pour a small amount of lime juice onto a small platter, and pour a small amount of coarse salt onto a second small platter. Salt the glass rim by dipping each glass rim into lime juice and then into the salt. Fill the glass with the margarita mixture and garnish with a thin slice of lime.
Prep Time: 15 minutes
Cook Time: 0 minutes
Container: blender, freezer ready container
Servings: 6


Ingredients
-
6 ounces limeade, frozen, undiluted
-
6 ounces tequila
-
3 ounces triple sec
-
8 cups crushed ice
-
lime juice, fresh
-
coarse salt
-
1 lime, thinly sliced