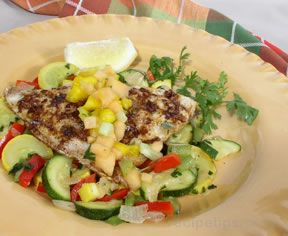 Directions
Brush both sides of fillet with olive oil.
Sprinkle fillets with minced garlic, paprika and cumin seeds.
Oil the grill grates and cook fillet over high heat until fish flakes easily with a fork.
Serve with sauteed vegetables and melon salsa.
Sauteed vegetables: Pour olive oil into pan, add prepared vegetables and saute until done.
Melon salsa: In a medium bowl, mix all prepared fruit ingredients. Cover and refrigerate until ready to serve.
Prep Time: 15 minutes
Cook Time: 15 minutes
Container: grill
Servings: 2


Ingredients
-
2 snapper fillets
-
2 tablespoons olive oil
-
2 tablespoons garlic, minced
-
1 teaspoon paprika, to taste
-
1 pinch cumin seeds
-
salt and freshly ground pepper, to taste
-
sauteed vegetables:
-
1/2 red bell pepper, seeded and thinly sliced
-
1/2 green bell pepper, seeded and thinly sliced
-
1/2 yellow summer squash, thinly sliced
-
1/2 zucchini, thinly sliced
-
2 tablespoons olive oil
-
melon salsa:
-
1 1/2 cups cantaloupe, diced
-
1/2 mango, diced
-
1/2 cucumber, chopped
-
2 tablespoons cilantro, chopped
-
2 tablespoons fresh lime juice
-
salt to taste