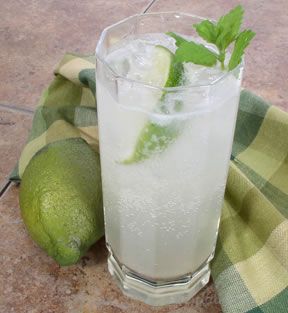 Directions
Place sugar, torn or chopped pieces of mint, and lime juice in a tall container.
Use a muddler or the handle end of a long wooden spoon to mix the ingredients and crush the fresh mint on the bottom of the container, rubbing it around the glass to release the mint flavors.
Add and mix the rum into the other ingredients that have been crushed and mixed. Strain the mixture into the Collins glass.
Add club soda to top off mixture; then add ice.
Prep Time: 10 minutes
Cook Time: 0 minutes
Container: Tall Collins Glass
Servings: 1
Serving Size: 8 ounces


Ingredients
-
2 ounces white rum
-
1 teaspoon sugar
-
2 ounces lime juice (or juice of 1 lime)
-
4 mint leaves, torn or coarsely chopped
-
2 ounces club soda
-
garnish: sprigs of mint and slices or quarter of lime
-
ice, add as desired