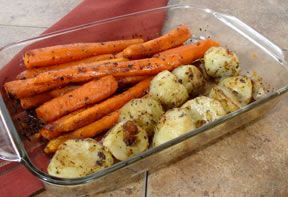 Directions
Preheat oven to 400º F.
Pour oil into the bottom of the baking dish. While placing prepared vegetables in the baking pan, coat with the oil. Sprinkle seasonings over vegetables.
Bake for 45 minutes or until vegetables are tender, turning twice during baking. Additional vegetable options: parsnips, winter squash, and yams.
Prep Time: 15 minutes
Cook Time: 45 minutes
Container: 7" x 11" oven proof baking dish
Servings: 4


Ingredients
-
6 to 8 large carrots, peeled
-
4 to 5 large potatoes, peeled and quartered
-
1 large onion, quartered
-
2 tablespoons to 3 tablespoons canola oil
-
1/2 teaspoon fresh ground black pepper, adjust to taste
-
1 teaspoon salt, adjust to taste
-
1 teaspoon garlic salt or powder
-
choice of herbs (i.e.: rosemary, lemon pepper, thyme, etc.)