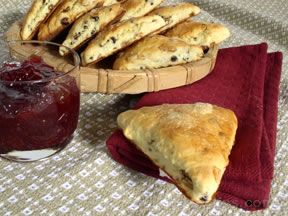 Directions
Preheat the oven to 400ºF. Grease a large baking sheet.
In a large bowl, combine the dry ingredients; then cut in the butter with a pastry blender until the mixture resembles coarse meal.
Blend the egg yolks with the buttermilk; then add this to the dry ingredients. Stir in the raisins, currants, and nuts.
Knead the dough lightly on a floured board until it is smooth. Divide the dough in half and make two 6" circles. Cut each circle into 6 wedges; then place the wedges onto the greased baking sheet.
In a small bowl, add the egg white and water and whisk until frothy. Brush each wedge with the egg white mixture.
Bake 15 to 17 minutes or until the scones are light golden brown.
Prep Time: 15 minutes
Cook Time: 15 minutes
Container: large baking sheet
Servings: 12
Serving Size: 1 piece


Ingredients
-
2 cups all purpose flour
-
1/4 cup sugar
-
4 teaspoons baking powder
-
1/4 teaspoon salt
-
6 tablespoons chilled butter, unsalted, cut into small pieces
-
2 large egg yolks
-
1/2 cup buttermilk
-
1/4 cup raisins
-
1/4 cup currants
-
1/3 cup almonds, sliced and toasted (walnuts may also be used)
-
1 egg white, lightly beaten
-
1 teaspoon water (for the egg wash)
-
1/2 cup chopped nuts (optional)
-
Note: If you want a thinner egg wash, double the amount of water.