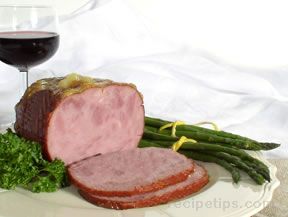 Directions
GLAZE:
In small sauce pan over medium heat, add pineapple juice and cornstarch. Stir constantly until mixture becomes thick.
Stir in spicy mustard and marmalade. Remove from heat.
Spoon 1/4 of the glaze into a separate bowl and set the remaining 3/4 aside.
TURKEY HAM:
Preheat oven to 350° F.
Score the turkey ham and place in prepared baking dish.
Glaze ham with prepared marmalade to lightly cover exposed sides of ham. Bake ham 15 minutes per pound, uncovered.
While baking, baste 1 or 2 more times using the total of the 1/4 of glaze on the turkey ham.
Add the drained pineapple chunks to the reserved glaze and pour over turkey ham slices when served.
Prep Time: 15 minutes
Cook Time: 30 minutes
Container: 9


Ingredients
-
GLAZE:
-
20 ounces pineapple chunks, drained and juice reserved
-
1 cup reserved pineapple juice (add water if needed to equal 1 cup)
-
1 tablespoon cornstarch
-
1 1/2 tablespoons spicy brown mustard
-
1/2 cup orange marmalade
-
TURKEY HAM:
-
2 pounds (to 4 pound) turkey ham