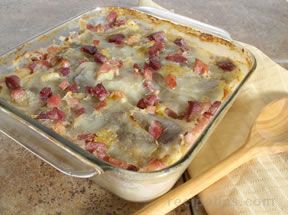 Directions
Preheat oven to 350° F. Grease baking dish.
Layer 1/3 sliced potatoes, 1/3 chopped ham, 1/3 onions in the pan. Repeat layers, ending with sliced potatoes on top.
In a sauce pan over medium heat, warm milk (do not boil). In a separate sauce pan melt butter and slowly stir in flour. Cook for 2 minutes, stirring constantly. Add warmed milk to the butter and flour mixture and continue to cook for 4 to 5 minutes while continuing to stir until thickened.
Remove from heat, stir in shredded cheese, mustard, paprika, and black pepper. (Return to low heat if cheese does not melt.) Then, pour cheese sauce over layered potatoes.
Bake uncovered for 1 hour or until potatoes are soft and top layer is golden brown.
Prep Time: 30 minutes
Cook Time: 1 hour
Container: 3 quart casserole
Servings: 12


Ingredients
-
2 cups cooked ham, cubed
-
3 pounds baking potatoes, peeled and sliced thin (approximately 9 med. potatoes)
-
1/2 cup onion, finely chopped
-
2 1/2 cups whole milk
-
1/4 cup butter
-
5 tablespoons flour
-
12 ounces extra sharp cheddar cheese, shredded
-
2 tablespoons spicy brown mustard
-
1 teaspoon paprika
-
salt and pepper to taste