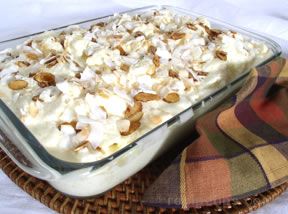 Directions
In a large bowl, pour packets of gelatin over 1/2 cup of cold water, stir to blend and add the boiling water. Add sugar, lemon and orange juice. Mix well.
Refrigerate until it thickens (1 1/2 to 2 hours).
Beat the whipping cream until firm and add to the gelatin mixture. Beat the entire mixture until thoroughly combined.
In a 9" x 13" pan, tear the angel food cake into bite size pieces. Pour the creamy gelatin mixture over the top of torn angel food pieces. Garnish with toasted almonds and coconut.
Cover and refrigerate overnight, approximately 8 hours. Cut into squares and serve.
Prep Time: 6 or more hours
Container: 9
Servings: 10
Serving Size: 1 piece


Ingredients
-
1 angel food cake, prepared
-
2 packets knox gelatin
-
1/2 cup cold water
-
1 cup boiling water
-
2 cups granulated sugar
-
1 1/2 cups orange juice
-
1/4 cup lemon juice
-
1 cup heavy whipping cream
-
1/2 cup toasted almonds for garnish
-
1/2 cup toasted coconut for garnish