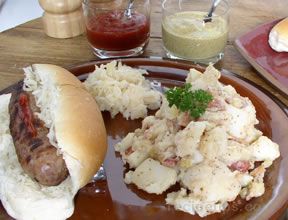 Directions
Fill a large sauce pan 3/4 full of water and add 1 teaspoon salt. Add unpeeled, quartered potatoes. Cook until tender, then drain, and cube potatoes.
While potatoes are cooking, fry the bacon over medium high heat until golden brown. Place cooked bacon on a paper towel to absorb excess drippings.
Reserve remaining bacon drippings in the pan. Add flour, sugar, salt, and celery to bacon drippings in the pan and blend.
Cook over low heat, stirring until mixture becomes bubbly. Add vinegar and water. Constantly stirring mixture, heat to a boil. Allow to boil for 1 minute while continuing to stir.
Stir in cubed potatoes and crumbled bacon. Serve warm or cold.
Prep Time: 30 minutes
Cook Time: 30 minutes
Servings: 8
Serving Size: 1 cup


Ingredients
-
8 medium red potatoes, unpeeled & quartered
-
4 slices bacon
-
1/2 cup onion, chopped
-
1/2 cup celery, chopped
-
3 tablespoons all purpose flour
-
1 1/2 tablespoons sugar
-
1 teaspoon salt
-
1 teaspoon celery seed
-
1/3 cup cider vinegar
-
1 cup water