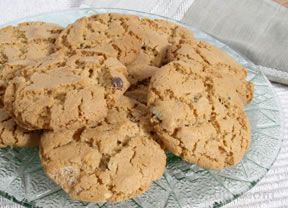 Directions
Preheat oven to 350º F.
In a medium bowl, combine peanut butter, sugar, egg, and baking soda. Stir until all ingredients are blended. Add vanilla and stir.
Roll dough into balls about 1 inch in diameter and place on greased cookie sheet.
Bake for 16-17 minutes or until lightly browned and set.
Remove pan from oven and leave cookies on baking sheet 1-2 minutes. Then, place cookies on a rack to cool.
Optional: Add mini chocolate chips and/or chopped mixed nuts to batter.
Prep Time: 10 minutes
Cook Time: 15 minutes
Container: greased cookie sheet
Servings: 24
Serving Size: 1 piece


Ingredients
-
1 cup creamy peanut butter
-
1 cup granulated sugar
-
1 egg, slightly beaten
-
1 teaspoon baking soda
-
1/2 teaspoon vanilla
-
Optional:
-
1/8 cup chopped mixed nuts
-
1/8 cup mini chocolate chips