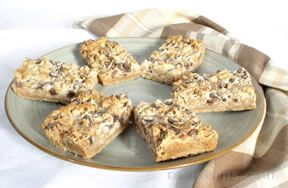 Directions
Preheat oven to 350 degrees.
Melt butter or margarine in bottom of 9 x 13 baking pan, tilting pan slightly to coat all sides. Add graham cracker crumbs to melted butter, pat mixture lightly to make a crust.
Sprinkle chocolate chips, peanut butter chips, coconut, and nuts over the mixture.
Pour can of sweetened condensed milk evenly over top and bake 25-30 minutes.
Remove from oven. Allow bars to cool slightly; cut while still warm.
Prep Time: 15 minutes
Cook Time: 30 minutes
Container: 9 x 13 baking pan
Servings: 24
Serving Size: 1 piece


Ingredients
-
1/2 cup butter or margarine (1 stick)
-
1 1/2 cups graham cracker crumbs
-
1 cup chocolate chips, more if desired
-
1 cup peanut butter or butterscotch chips
-
1 1/2 cups sweetened coconut (shredded or flaked)
-
1 1/2 cups chopped cashews or walnuts
-
14 ounces sweetened condensed milk