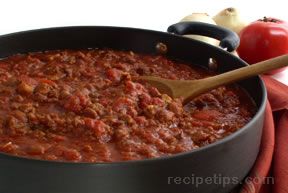 Directions
In a large dutch oven over medium heat, brown onion, green pepper, and garlic with a small amount of hamburger. Add remaining hamburger and brown. Hamburger should be broken up into small pieces while browning.
Drain off excess grease.
Combine remaining ingredients and simmer for a minimum of 1 hour. Season to taste.
Prep Time: 15 minutes
Cook Time: 1.5 hours
Container: large dutch oven
Servings: 8
Serving Size: 1 cup


Ingredients
-
2 1/2 pounds lean ground beef
-
2 large sweet onions, chopped
-
2 cups celery and leaves, chopped
-
2 cloves garlic, minced
-
1 to 2 green peppers, chopped
-
2 teaspoons chili powder (adjust to taste)
-
3/4 teaspoon garlic powder
-
15 ounces kidney beans, drained and rinsed
-
15 ounces pinto beans, drained and rinsed
-
28 ounces can diced tomatoes (approximately 2 large, fresh, diced tomatoes)
-
11 ounces tomato juice