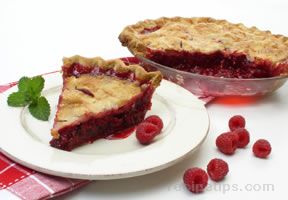 Directions
Preheat oven to 425°F.
Mix together raspberries, sugar, cornstarch, tapioca, and water in large bowl.
Line a 9" pie plate with 1 pie crust. Brush crust with slightly beaten egg white (reserve some beaten egg white to brush top crust).
Spoon raspberry mixture into bottom crust. Dot raspberry mixture with butter (see TIP). Top with remaining crust, crimping top and bottom crust together. Cut 4-6 slits in top crust to allow steam to escape while baking.
Bake at 425º F for 10 minutes. Reduce heat to 350º F and bake for an additional 45 minutes. Cover edges of pie crust with aluminum foil to prevent over browning.
TIP: To dot with butter, grate cold butter on a cheese grater and sprinkle grated butter over pie filling.
Prep Time: 15 minutes
Cook Time: 1 hour
Container: 9" pie plate
Servings: 8
Serving Size: 1 piece


Ingredients
-
1 quart fresh raspberries
-
1 cup granulated sugar
-
2 tablespoons cornstarch
-
2 tablespoons instant tapioca
-
4 tablespoons water
-
2 9" refrigerated pie crusts
-
1 egg white
-
3 tablespoons butter