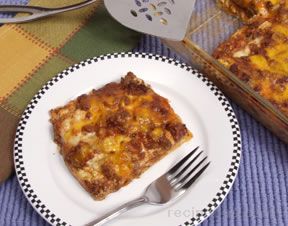 Directions
Simmer (uncovered) tomatoes, tomato sauce, 1 teaspoon salt, oregano, and onion powder in a medium sauce pan.
In 2 tablespoons of oil, on medium heat, sauté fresh onion and garlic until golden brown. Add ground beef and cook until meat is no longer red in color.
Add meat mixture to the tomato sauce. Simmer for 2 hours or longer.
Prepare lasagne noodles according to package directions.
Preheat oven to 350º F.
Grate cheeses. In the bottom of baking dish, spread a thin layer of the tomato sauce. Follow with a thin layer of cooked lasagne noodles and a layer of grated cheese. Repeat layers twice. The final layer of cheese can be covered with a thin layer of tomato mixture and sprinkled with parmesan cheese.
Bake for 45-50 minutes. Remove from oven and let sit for 10-15 minutes before serving.
Prep Time: 30 minutes
Cook Time: 1 hour
Servings: 8
Serving Size: 1 piece


Ingredients
-
28 ounces tomatoes, canned, crushed with juice
-
16 ounces tomato sauce
-
1 1/2 teaspoons salt
-
1 1/2 teaspoons dried oregano
-
1 teaspoon onion powder
-
1 cup onion, minced
-
1 clove fresh garlic, minced
-
2 tablespoons olive oil
-
16 ounces ground beef (extra lean)
-
8 ounces lasagne noodles
-
1 tablespoon olive oil
-
8 ounces Ricotta cheese
-
4 ounces Mozzarella cheese, grated
-
4 ounces Swiss cheese, grated
-
4 ounces Parmesan cheese, grated