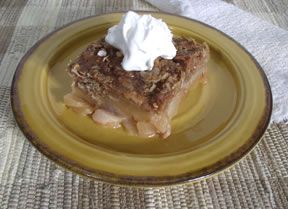 Directions
Preheat oven to 375°F.
Peel and slice apples into a baking dish.
Mix together flour, brown sugar, granulated sugar, oatmeal, and spices. Cut in* butter until it becomes crumbly. Sprinkle topping over sliced apple. Add chopped nuts if desired.
*Cut In: To combine dry ingredients with shortening, butter or margarine by "cutting" the dry ingredients in with a pastry blender or two knives. As the dry ingredients are cut into the fat ingredients they begin to form clumps.
Bake in preheated oven 1 hour. Serve warm or at room temperature. Top with ice cream and/or whipped topping (optional).
A crisp, tart apple is recommended.
Tip: An automated apple peeler will reduce the preparation time in half.
Prep Time: 30 minutes
Cook Time: 1 hour
Container: 9" x 13" pan or 3 quart baking dish
Servings: 10
Serving Size: 1 piece


Ingredients
-
10 cups baking apples, peeled, cored, and sliced
-
1 cup all-purpose flour
-
1/2 cup brown sugar, packed
-
1/2 cup granulated white sugar
-
1 cup oatmeal, regular (old fashioned)
-
1/3 cup butter
-
2 teaspoons ground cinnamon
-
1/4 teaspoon ground nutmeg
-
1/2 cup nuts, chopped (optional)