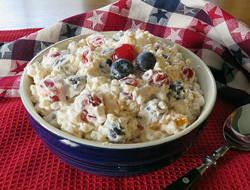 Directions
In a saucepan, combine the sugar, flour, salt, pineapple juice and eggs. Stir to mix thoroughly and then cook over medium heat until thickened. Remove from the heat and add the lemon juice.
Allow this mixture to cool completely.
Cook the Acini de Pepe pasta according to instructions on the package. Rinse with cold water and drain well.
Combine the cooled egg mixture with the pasta; stir to mix evenly and then refrigerate overnight or until chilled.
Add the pineapple, oranges, cherries and blueberries to the chilled pasta mixture; stir gently to combine.
Fold the marshmallows and whipped topping into the salad until evenly mixed.
Chill in refrigerator before serving.
Prep Time: 1 hour
Container: Large bowl for mixing
Servings: 10


Ingredients
-
1/2 cup sugar
-
1 tablespoon flour
-
1/4 teaspoon salt
-
7/8 cup pineapple juice (drained from pineapple tidbits)
-
1 egg, beaten
-
1/2 tablespoon lemon juice
-
8 ounces Acini de Pepe pasta
-
1 can pineapple tidbits (20 oz.)
-
1 can mandarin oranges ( 16 oz.)
-
2 jars Maraschino cherries (cut 1 jar of cherries in half, leave other jar whole)
-
1 package bluberries (1 pint)
-
2 cups minature marshmallows
-
8 ounces whipped topping