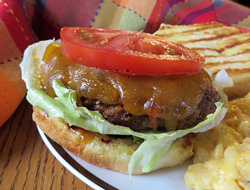 Directions
Mix ground beef, corn chips, taco seasoning, dried onion, and egg in large bowl until combined evenly. Shape into 6 patties.
Grill, covered, over medium heat for 6 to 8 minutes per side or until burgers are cooked through. Add cheese slices to burgers 1 minute before cooking is completed.
Serve burgers on toasted buns with desired toppings, such as lettuce, tomato, salsa, taco sauce, jalapenos, and sour cream.
Note: The burgers can also be cooked under the broiler. Cook 4 inches a way from heat source and allow to cook for 6 to 8 minutes per side.
Prep Time: 15 minutes
Cook Time: 15 minutes
Servings: 6


Ingredients
-
1 1/2 pounds lean ground beef
-
1/2 cup crushed corn chips
-
1 package taco seasoning
-
1 tablespoon dried minced onion
-
1 egg, slightly beaten
-
6 slices Cheddar cheese
-
6 hamburger rolls
-
Lettuce, tomato, salsa, taco sauce, jalapenos, and sour cream (optional)