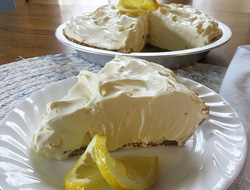 Directions
Beat the cream cheese and sweetened condensed milk together until it is smooth.
Add the lemonade concentrate; beat until well mixed.
Fold in the whipped topping just until evenly mixed. Add a couple drops of food coloring if desired for a little extra color but don't add too much.
Pour into the prepared graham cracker crust and spread out evenly. Cover and refrigerate until the pie firms up. Keep refrigerated when not serving.
Prep Time: 20 minutes
Container: 9-inch pie tin
Servings: 8


Ingredients
-
8 ounces cream cheese, softened
-
1 can sweetened condensed milk, 14 oz. can
-
3/4 cup thawed lemonade concentrate
-
8 ounces frozen whipped topping, thawed
-
Yellow food coloring (optional)
-
graham cracker crust (9-inch), store bought or homemade