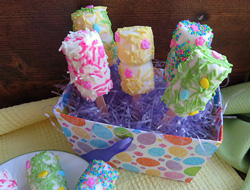 Directions
Place the almond bark with the oil on a microwave save plate. Cook in the microwave at 30 second intervals until smooth and melted. Stir after each 30 seconds.
Pour various sprinkles or decorative candies out on separate plates.
Place two marshmallows on the end of a popsicle stick. Roll the marshmallows in the almond bark; allow excess to drip off.
Roll the coated marshmallows in the sprinkles as desired. If using larger candy pieces, you can pick them up and place them on the pops wherever you would like.
When you have decorated them as you want them, stick the popsicle sticks into a piece of Styrofoam and allow them to set up until firm.
When all the pops are done you can place a piece of Styrofoam in the bottom of a basket and stick all the pops in it to form a bouquet. Place some Easter grass over the Styrofoam to hide it.
Servings: 20


Ingredients
-
12 ounces white almond bark
-
4 teaspoons canola oil
-
40 large marshmallows
-
20 popsicle sticks
-
Various sprinkles and decorative candies
-
Styrofoam