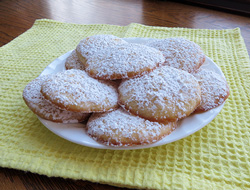 Directions
Cream the butter and sugar together in a bowl; then beat in vanilla.
Add the eggs on at a time; beat until light and fluffy.
Set aside 1/4 cup of the lemonade concentrate.
Sift the flour and baking soda; slowly add to the creamed mixture, alternating with the thawed lemonade concentrate.
Refrigerate the dough for 1 hour.
Grease the cookie sheets and place the dough by spoonfuls. Flatten cookies with the bottom of a glass dipped in sugar.
Bake in an oven preheated to 350° F. Bake for 10 to 12 minutes or until edges begin to brown.
Cool and then brush the top with some of the lemonade concentrate; sprinkle with powdered sugar.
Prep Time: 45 minutes
Cook Time: 6 minutes
Container: Cookie sheets


Ingredients
-
1 cup butter
-
1 cup sugar
-
1 teaspoon vanilla
-
2 eggs
-
2 cups sifted flour
-
1 teaspoon baking soda
-
1 can frozen lemonade (6 oz.) - defrosted, reserve 1/4 cup
-
Powdered Sugar