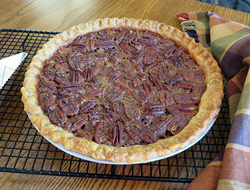 Directions
Prepare a homemade pie crust or use a store-bought unbaked crust. Place the crust in the pie plate and flute the edges as desired. Place in the refrigerator while preparing the filling.
Preheat the oven to 400° F.
In a bowl, combine the maple syrup, brown sugar, eggs, butter, vanilla, and salt; whisk mixture until well mixed.
Stir in the pecans and then carefully pour the mixture into the prepared pie crust.
Bake at 400° for 10 minutes; reduce heat to 350° and bake for 30 to 40 minutes additional or until center of pie is set.
Serve with whipped topping.
Prep Time: 30 minutes
Cook Time: 1 hour
Container: 9-inch pie plate
Servings: 8


Ingredients
-
1 pie crust, 9-inch unbaked
-
1 cup pure maple syrup
-
1 cup brown sugar
-
3 eggs
-
4 tablespoons butter, melted
-
2 teaspoons vanilla
-
1/4 teaspoon salt
-
2 cups whole pecans