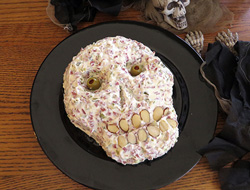 Directions
Combine cream cheese, sour cream, and seasonings in bowl. Beat until smooth.
Stir in pickles and beef.
Scoop the dip onto a plate in a mound. Begin molding the mound in the shape of a skull, making cheekbones, deep holes for the eye sockets, indents for the nose area, and line the mouth with sliced almonds for the teeth.
Cover and chill in refrigerator at least 2 hours.
Serve with crackers or fresh vegetables.
Prep Time: 40 minutes


Ingredients
-
2 whole green olives
-
Sliced almonds
-
8 ounces cream cheese - softened
-
1 cup sour cream
-
1 teaspoon onion powder
-
1 teaspoon parsley
-
3/4 cup dill pickles - drained, finely chopped
-
5 ounces dried beef - finely chopped