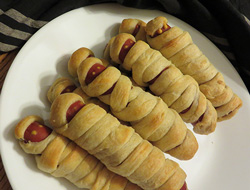 Directions
Remove crescents from the tube, unroll and press seams together to form a rectangle.
Use a pizza cutter to cut the rectangle into 1/2 inch wide strips. Cut parallel to the short side.
Wrap each hot dog with two or three strips in an uneven fashion to resemble the wrapping on a mummy. Leave a small opening at one end for the eyes to show through.
Place the mummy dogs on an ungreased baking sheet. Bake for 15 minutes or until golden brown.
Apply two dots of mustard in the opening to represent eyes. Serve immediately.
Prep Time: 20 minutes
Cook Time: 15 minutes
Container: baking sheet
Servings: 8


Ingredients
-
1 tube crescent rolls - 8 oz. pkg.
-
8 hot dogs
-
Mustard