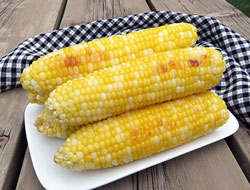 Directions
Remove husk and silk from the corn; rinse thoroughly and pat dry with a paper towel.
Mix garlic salt into the butter.
Cut 12 pieces of aluminum foil large enough to wrap the ears of corn in.
Spread garlic butter over surface of the corn and warp each ear individually in a piece of foil. Be sure to wrap tightly.
Place in the oven and bake for 25 minutes.
Note: You can substitute regular salt for the garlic salt if you desire. The garlic salt gives the corn just a very mild garlic flavor.
Prep Time: 30 minutes
Cook Time: 25 minutes
Servings: 12


Ingredients
-
12 ears of sweet corn
-
1/2 cup butter
-
1/2 teaspoon garlic salt