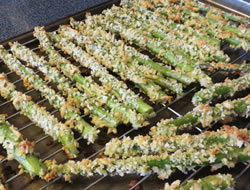 Directions
Trim the ends of the asparagus. Combine the Panko bread crumbs with the shredded parmesan, salt, and pepper. Lightly beat the eggs and then pour into a container that is long enough for the asparagus to fit in, making it easier for dipping.
Dredge each asparagus spear in the flour and then dip in the beaten eggs. Roll in the bread crumb mixture and place on the wire rack on the cookie sheet.
When all the asparagus spears are coated, place them in an oven preheated to 425° F. Bake for 10 to 15 minutes or until golden brown.
Serve immediately.
Prep Time: 40 minutes
Container: Baking sheet with wire rack


Ingredients
-
1 pound asparagus
-
3/4 cup panko breadcrumbs
-
1/4 cup shredded parmesan cheese
-
1/2 teaspoon salt
-
1/4 teaspoon pepper
-
2 eggs - lightly beaten
-
1/2 cup flour