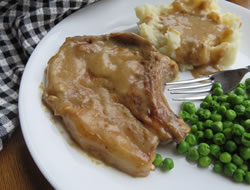 Directions
Preheat oven to 350° F.
Add 1 to 2 tbsp. of cooking oil to a large skillet. Heat oil and then just brown the pork chops in the skillet (do not cook all the way through).
Place the brown pork chops in a large baking dish. If you cannot get them all on one layer it is ok to stack a couple on top of the others.
Sprinkle the Lipton onion soup mix over the pork chops. Then spread the two cans of Cream of Mushroom soup over the top.
Drain grease from the pan that the pork chops were browned in and then pour 1/2 can of water into the pan. Scrape sides and bottom of the pan for browned areas created when browning the pork chops; pour this water into the baking dish with the rest of the ingredients.
Cover the baking dish with foil and place in the preheated oven. Bake for 1 1/4 hours.
Take out of the oven and remove the foil. Place back in the oven for 15 minutes.
Remove from the oven and remove the pork chops from the hot dish, scraping off the soup and gravy from the pork chops back into the baking dish.
Stir the gravy mixture so that it is all well mixed and then place the pork chops back in with the gravy.
Serve the pork chops and gravy with instant mashed potatoes or make homemade mashed potatoes.
Container: Large baking dish
Servings: 8


Ingredients
-
8 Pork chops
-
Salt and pepper to taste
-
1 package Lipton onion soup mix
-
2 cans cream of mushroom soup
-
1/2 can water