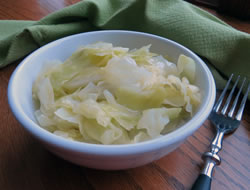 Directions
Core and coarsely cut up the cabbage.
Combine the butter and broth in a large skillet; bring to a boil.
Add the cabbage, cover and turn down the heat to low.
Allow the cabbage to steam for approximately 30 to 35 minutes or until just tender; stir frequently.
Salt and pepper to taste; serve while warm.
Prep Time: 5 minutes
Cook Time: 35 minutes
Container: Large skillet
Servings: 6


Ingredients
-
1 head cabbage
-
1 tablespoon butter
-
1 can chicken broth (15 oz.)
-
Salt and pepper to taste