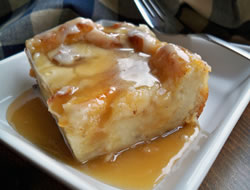 Directions
PUDDING:
Preheat oven to 350 degrees F.
Cube bread and place in a large bowl. Combine the milk and butter in a saucepan and cook over medium heat until the butter is melted.
Pour the milk mixture over the cubed bread and let stand for 10 minutes.
After standing for 10 minutes, add the sugar, eggs, vanilla, and nutmeg; stir to mix evenly.
Pour into the greased casserole and spread out evenly. Place in the preheated oven and bake for 45 minutes or until the center is set.
GLAZE:
Stir the powdered sugar and melted butter together until smooth.
Add the vanilla and milk; stir until well blended. Drizzle over warm pudding.
CARAMEL SAUCE:
While the pudding is baking, combine all the sauce ingredient, except for the vanilla, in a saucepan and cook over medium heat. Cook until thickened and comes to a full boil, stirring occasionally.
Remove from the heat and stir in the vanilla.
To serve, drizzle caramel sauce over the warm glazed pudding.
Prep Time: 60 minutes
Cook Time: 45 minutes
Container: 9 x 13 casserole
Servings: 15


Ingredients
-
PUDDING:
-
6 cups cubed sour dough bread (or other dense bread)
-
3 cups milk
-
6 tablespoons butter
-
3/4 cup sugar
-
3 eggs, beaten
-
1 1/2 tablespoons vanilla
-
3/4 teaspoon nutmeg
-
GLAZE;
-
2/3 cup powdered sugar
-
2 teaspoons butter, melted
-
1/2 teaspoon vanilla
-
1 tablespoon milk
-
CARAMEL SAUCE:
-
3/4 cup butter
-
3/4 cup sugar
-
3/4 cup brown sugar
-
3/4 cup heavy cream
-
1 1/2 tablespoons vanilla