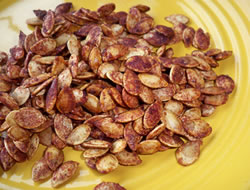 Directions
When cleaning out a pumpkin for carving, save the seeds from the pulp you remove. It is OK to leave a little of the pulp on the seeds. Do not was the seeds because the pulp will add a little flavor.
Preheat the oven to 300 degrees F. Spread the canola oil on a baking sheet.
Spread the seeds on the baking sheet in a single layer and sprinkle with kosher salt.
Melt the butter and mix with the cinnamon and sugar; sprinkle over the seeds and toss to evenly coat.
Place in the preheated oven for 45 to 60 minutes or until the seeds are golden.
Spread out on wax paper and allow to cool.
Prep Time: 30 minutes
Cook Time: 60 minutes


Ingredients
-
2 cups pumpkin seeds
-
1 tablespoon canola oil
-
2 tablespoons butter
-
2 tablespoons sugar
-
1 1/2 teaspoons cinnamon