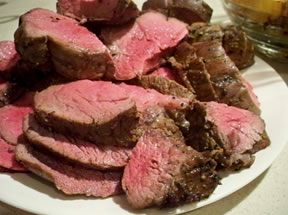 Directions
Wash the tenderloin and pat dry. Rub the minced garlic all over the tenderloin and then rub the pepper into it.
Poke the tenderloin all over with a meat fork.
Combine the Worcestershire sauce and the soy sauce; pour into a large roasting pan.
Add the tenderloin to the roasting pan and allow to marinate for 2 to 3 hours. Turn the tenderloin occasionally while it is marinating.
Preheat the oven to 500 degrees. Drain off the marinade and pour the beef bouillon around the beef tenderloin in the roasting pan.
Put into the preheated oven and immediately reduce the heat to 350 degrees. Cook for 18 minutes per pound for rare, 20 minutes per pound for medium rare, or until the internal temperature reaches 135 to 140 degrees.
Slice and serve.
Note: If cooking a beef tenderloin that is less than 3 pounds, you may have to reduce the cooking time so that it does not get overcooked. Use a thermometer to test internal temperature for best results.
Prep Time: 30 minutes
Cook Time: 1.5 hours
Container: Large roasting pan


Ingredients
-
5 pounds beef tenderloin
-
2 cloves garlic - can use up to 4 cloves
-
4 tablespoons pepper , coarse ground - can add up to 6 tablespoons if desired
-
1 cup Worcestershire sauce
-
2 cups soy sauce
-
2 cups beef bouillon