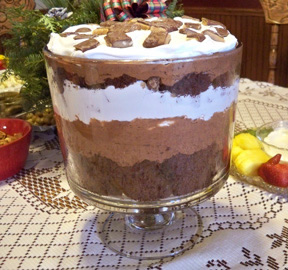 Directions
Prepare the chocolate cake according to the directions on the package for a 9 x 13 cake.
When the cake has completely cooled, poke holes all over the cake with a wooden skewer. Pour the Kahlua over the cake and in the holes. Let it soak in for at least an hour.
Before assembling the trifle, cut the cake up into 1-inch squares.
In a mixing bowl, combine the two envelopes of dream whip and instant pudding. Add the milk and vanilla; beat until mixture thickens.
Break Heath bars into bite size pieces. Try cutting up with a knife or breaking by gently pounding with a hammer or mallet.
Begin assembling the trifle by starting with a layer of the cubed cake pieces. Add half of these cubes.
Then spread half of the mousse over the cake layer; then add a layer of Cool Whip.
Sprinkle half of the broken Heath bars over the Cool Whip. Then repeat the layers with the remaining ingredients, ending with the Heath bars on top.
Refrigerate until chilled.
Prep Time: 1 hour
Cook Time: 30 minutes
Container: Trifle bowl


Ingredients
-
1 package chocolate cake mix
-
1/3 cup Kahlua
-
2 Dream Whip envelopes
-
2 packages chocolate instant pudding - 4-serving size
-
2 3/4 cups milk
-
1 teaspoon vanilla
-
16 ounces Cool Whip
-
6 Heath candy bars - regular size