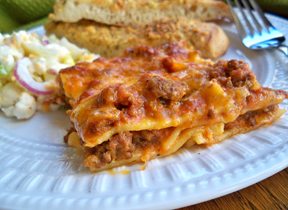 Directions
Cook lasagna noodles according to package directions; drain and set aside.
Cook meat and crumble into large pieces. Stir in sauce and water - simmer for 5 minutes.
In a small bowl combine ricotta (or cottage cheese), parmesan, parsley, salt and pepper.
Grease baking dish and preheat oven to 375 degrees F.
Arrange layers in greased baking with half of each in the following order: lasagna noodles, cheese mixture, mozzarella, and meat sauce.
Repeat layers in the same order.
Sprinkle cheddar cheese on top.
Bake at 375 degrees F. for 30 to 35 minutes. Remove from oven allow to stand for 10 minutes before serving.
Prep Time: 1 hour
Cook Time: 35 minutes
Container: 9 x 13 baking dish
Servings: 15


Ingredients
-
8 ounces lasagna noodles
-
1 pound ground beef
-
1 jar spaghetti sauce - 15.5 oz.
-
3/4 cup water
-
8 ounces ricotta cheese or cottage cheese
-
1/4 cup grated Parmesan
-
1 tablespoon minced parsley
-
1/2 teaspoon salt
-
1/4 teaspoon pepper
-
8 ounces mozzarella cheese
-
4 ounces shredded cheddar cheese