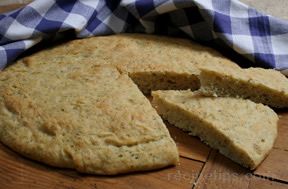 Directions
Add the yeast to the lukewarm water and allow to stand for a few minutes for the yeast to be activated.
Mix the flour, yeast mixture, milk, onion powder, sage, chives, salt, and melted butter together; mix thoroughly.
Place on a baking stone and form into a round loaf. Coat loaf lightly with olive oil and then cover with plastic. Let stand overnight to raise (or 6 to 8 hours). The loaf will spread and flatten slightly as it stands overnight.
Preheat the oven to 350° F. when ready to bake.
Remove plastic wrap from loaf and brush surface with an egg wash.
Bake for 30 minutes and then remove from oven and brush surface with melted butter. Return to the oven and bake for approximately 10 more minutes or until done.
Remove from the oven and place on a rack to cool.
Prep Time: 15 minutes
Cook Time: 45 minutes
Container: baking stone


Ingredients
-
1 teaspoon yeast
-
1/4 cup water - lukewarm
-
2 cups flour
-
1/2 cup milk
-
1 teaspoon onion powder
-
1 teaspoon sage - crushed leaves
-
2 teaspoons minced fresh chives
-
1/2 teaspoon salt
-
2 tablespoons butter - melted
-
Olive oil
-
1 egg - beaten for egg wash
-
melted butter for brushing loaf when baking